I will spray you with my water hose and pronounce my love (yay for pictures?)
Wow last week was the busiest week I've had in a looooong while.
After Tuesdays successful first photography class, I had a loooong choir practice practicing the long songs of doom for Thursday and Easter. Thursday was Maundy Thursday, which will forever be known to me as emo church day. I sang about a 15 page long song about crucification everything was quiet and in the end we had to DEPART IN SILENCE.
Friday was the long awaited day of the Cherokee country art festival, where I got to see Shyko's portrait of me on display there. It looked awesome, and the other art from our school and the other schools was just incredible. I really enjoyed going, now being able to understand my Nikon I shot a picture of Shyko looking up at the portrait of me. Then she and I wandered out into a massive and old cemetery where we took some shots. I love taking pictures with her because she is an artist, and has good firm grasp on perspective where sometimes I tend to center a pic. Hopefully someday soon I will get to actually own my portrait, hehe.
Saturday was the only day I did, nothing, I took up the rest of the shots in my camera, but other than that? Nothing. I had to call Uncle Bob to tell me how to get my film out *cough* luckily I didn't figure out on my own, because I had not even thought that I needed to rewind my film. With his help I got it out and loaded some color film in with no problems. I got the first roll EVER developed on my 35 mm. And some of them actually turned out ok! I really expected them to all turn out sucky. Uncle Bob sent me some more helpful emails on where and what kind of lens I should get next.
Here are five black and white photos I took on the 35 mm.
If you wanna see 'em =D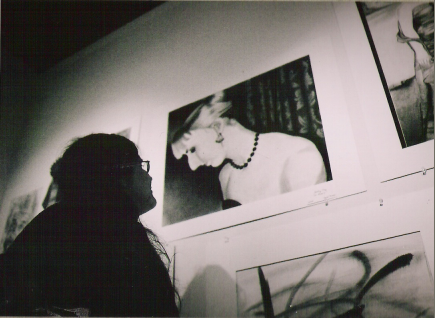 Shyko looking up at her portrait of me. I like this one, she looks all shadowy :3
This is just a broken angel in my back yard, it used to be a windchime, we can't seem to throw it away.
This is my daddy, he was killing bumble bees with a tennis racket when I caught him off guard.
Pretty windchime, random, but it came out really clear.
This seems to be everyones favorite. It's thrift in my back yard, it's pink.
I have some more scans in color. I'll put them up if anyone wants. I'll probably put them up anyway *shakes fist*
Sunday went well, it was happy and I sang my last long song, we then went up to sisters house and saw my cute niece and nephew. Oh, and Shykos dad, gave me like, a million filters to play with! Mwahahahaha. For today Dad took me to the Roswell mill ruins and Founders cemetery where I took more shots. Right now. I'm tired. Tomorrow it starts all over again with photography class. Woo! I need a note pad. *someone remind me!!!!!!!!!!!*
You know I've wanted to make a Deviant art account for a long time for poetry and stuff but never really did, I think I will make one now, for when I start being able to shoot better pictures. (I'm not like OMG I ROCK! I'm gonna make a deviant art account! I'm not, I actually wish some of my other much more talented friends in the areas of art and writing would make one *cough*ShykoandSara*cough* )
Night.